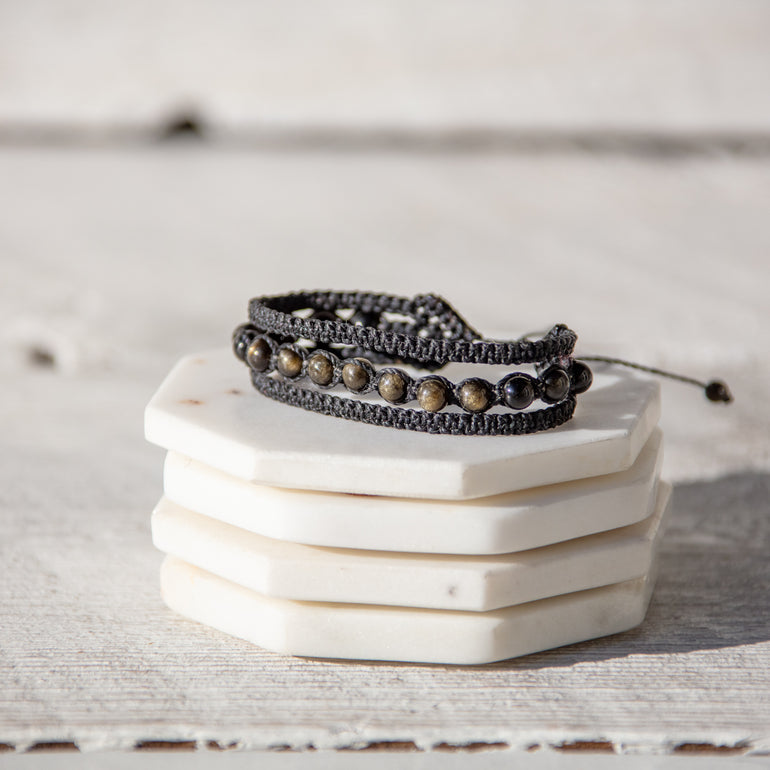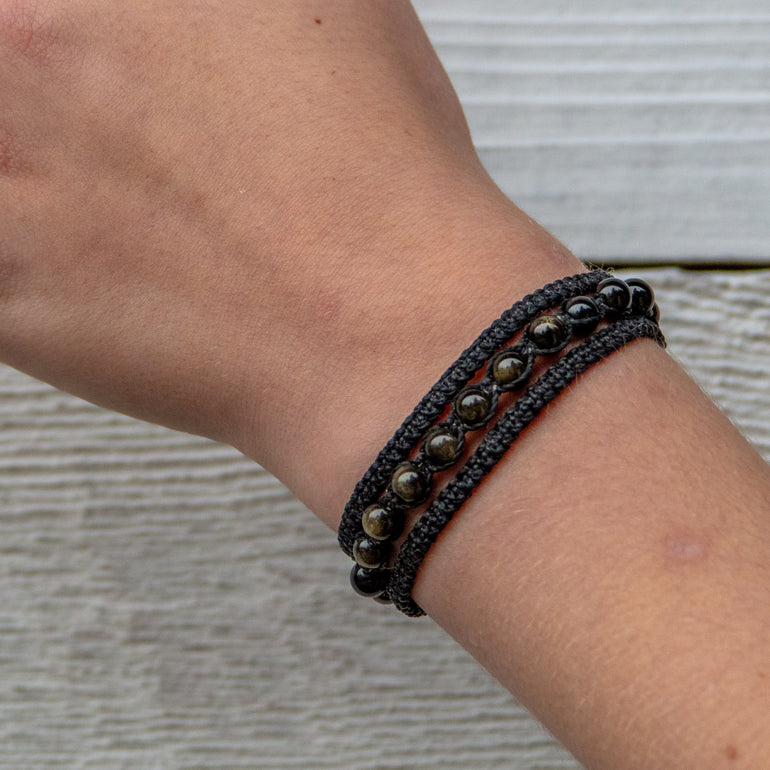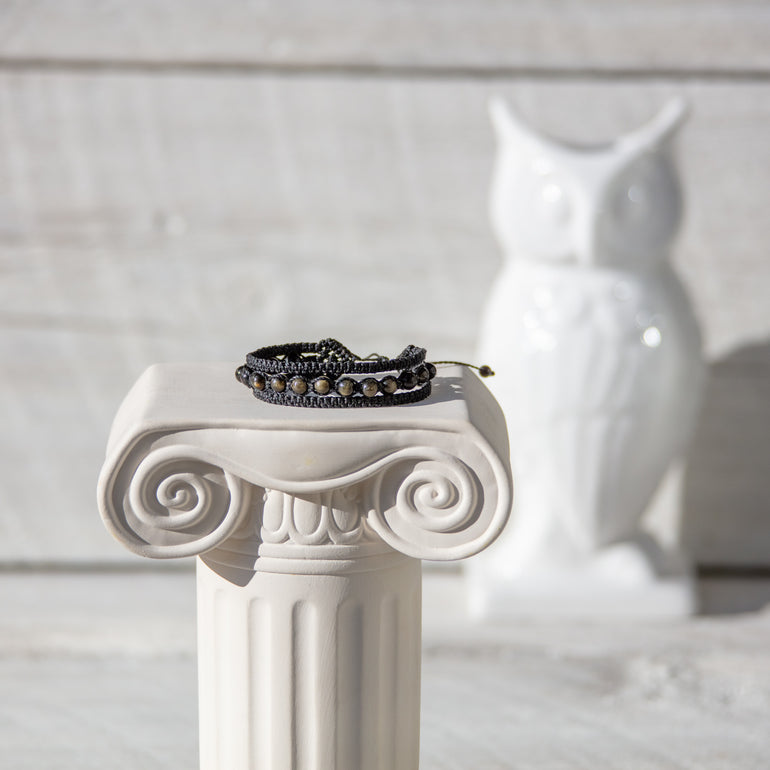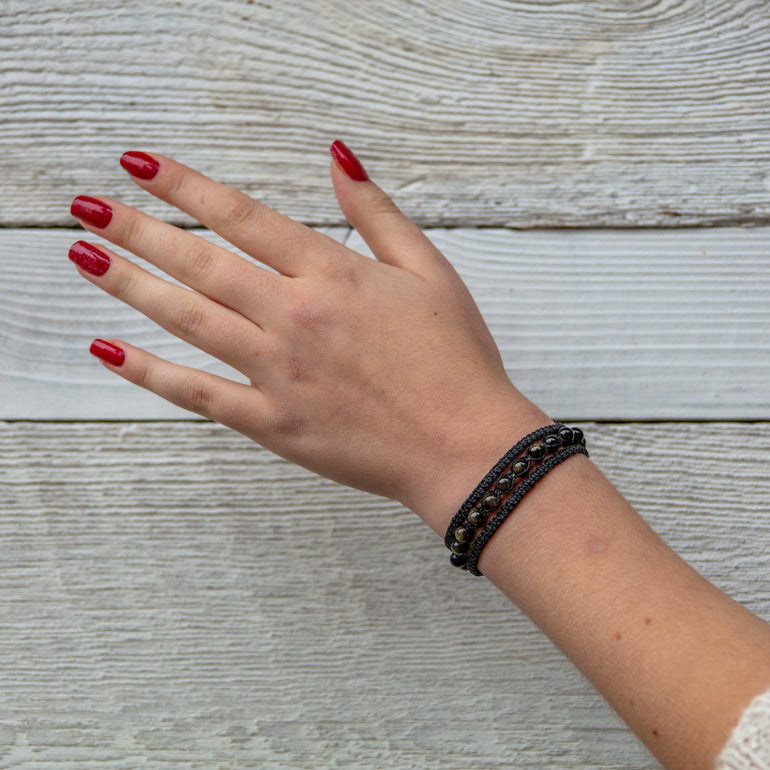 Golden Obsidian Earthy Embrace
These are among our most sought-after pieces for many years…and that's for a good reason. This collection is inspired by the colours and wonders of the Earth.  
These pieces are appreciated by healers, meditators, wanderers, artists and believers. In the details are Golden Obsidian gemstones hand-selected for their beauty and healing properties; pulled together by our sturdy thread so they can withstand everyday wear and tear.  
Unisex design, adjustable and suitable for those with metal allergies. The Earthy Embrace's durable material makes it is an ideal wear for people on the go. And, with its super strong Macramé thread, you can sleep with it, shower with it, jump in the ocean with it, and do sports as you please -- no worries! 
Earthy Embrace bracelets fit wrists circumference of 5 1⁄2" (14cm) to 9" (23cm).
All Susana Vijaya's pieces feature sliding knots as clasps.  Our jewelries are adjustable for the perfect fit for all.
Simply put on your jewelry and adjust the knot according to your style and comfort. The knot will automatically lock in place. To remove it, just slide out the knot. 
All pieces are crafted with Brazilian Settanyl waxed threads that have lasting colorfastness and excellent durability against everyday wear and tear.  Our jewelry are waterproof and suitable for metal allergies.
While our pieces are made with the finest Settanyl waxed threads for longevity, occasional cleaning can retain the gemstones' optimal luster. Simply used a soft, damp cloth to wipe the gemstones. Store separately from other jewelries so they don't get scratched.
You'll receive a jewelry that is cleansed with Copal incense and doTERRA essential oil. Your piece will not only smell delightful. It is energetically cleansed with positivity and a good vibe. 
---
Free shipping on orders over $200
Golden Obsidian Earthy Embrace
FAQ
Can I use my jewelry all the time?

Yes you can. Every Susana Vijaya piece is made with Settanyl waxed
threads. These threads are 100% polyester, so totally waterproof. You
can wear our pieces in the shower, ocean, lake, swimming pool, hot
tub, you name it!
There are some exceptions though. We don't recommend soaking the Never Too Much bracelets because of the nature of some beads. And if there are other products that we don't recommend to be worn 24/7, we will let you know in their description.
Does Susana makes custom orders?

Susana loves to create custom pieces. The problem is that she is
always too busy!
But if she has time, she will love to create something special for you. Just send her an email at info@susanavijaya.com and she will let you know if/when she can work with you.
Is Susana Vijaya jewelry suitable for people with metal allergies?

Most of our creations are suitable for people with metal allergies
because they don't have any metal on them. If the piece has
sterling silver beads, it will be mentioned in the description.
Our Accomplices andFifth Chakra's creations have a small metal tag that you can easily remove, if you have allergies.
Can I find Susana Vijaya creations in other stores?

Yes you can. Susana Vijaya has a very simple line of jewelry for
stores. Right now you can find our products at:
Banyen Books and Sound – Vancouver, BC
Gaia Rising – Nelson, BC
Hollyhock – Cortes Island, BC
Alpine Images – Sun Peaks, BC
If you want to have our products in your store, please send us an email to
info@susanavijaya.com
Does Susana Vijaya has a physical store?

Susana Vijaya does not have a physical store. Our jewelry is sold
online, at Markets, Gem shows and Festivals, and also in other
stores. Please check up our "Events" page to find out where to
find us selling our creations.
Can I pick up my order?

Yes you can. If you live in the Shuswap area you can visit us at our
address and collect your order.
Can I cancel an order?

You can cancel your order and receive a full refund within 12 hours
of your purchase as long as it hasn't been shipped yet. Please
contact us as soon as possible if you need to make any changes or
cancellations.
Shipping
Fast shipping
We exclusively use Canada Post as our carrier. At check out you can chose how fast you want to receive your order and pay accordingly.

Order tracking
All our shipping options are trackable. Your order will be sent out within 3 business days.

Get in touch
If you have any questions, just let us know. We are here to help you!
About us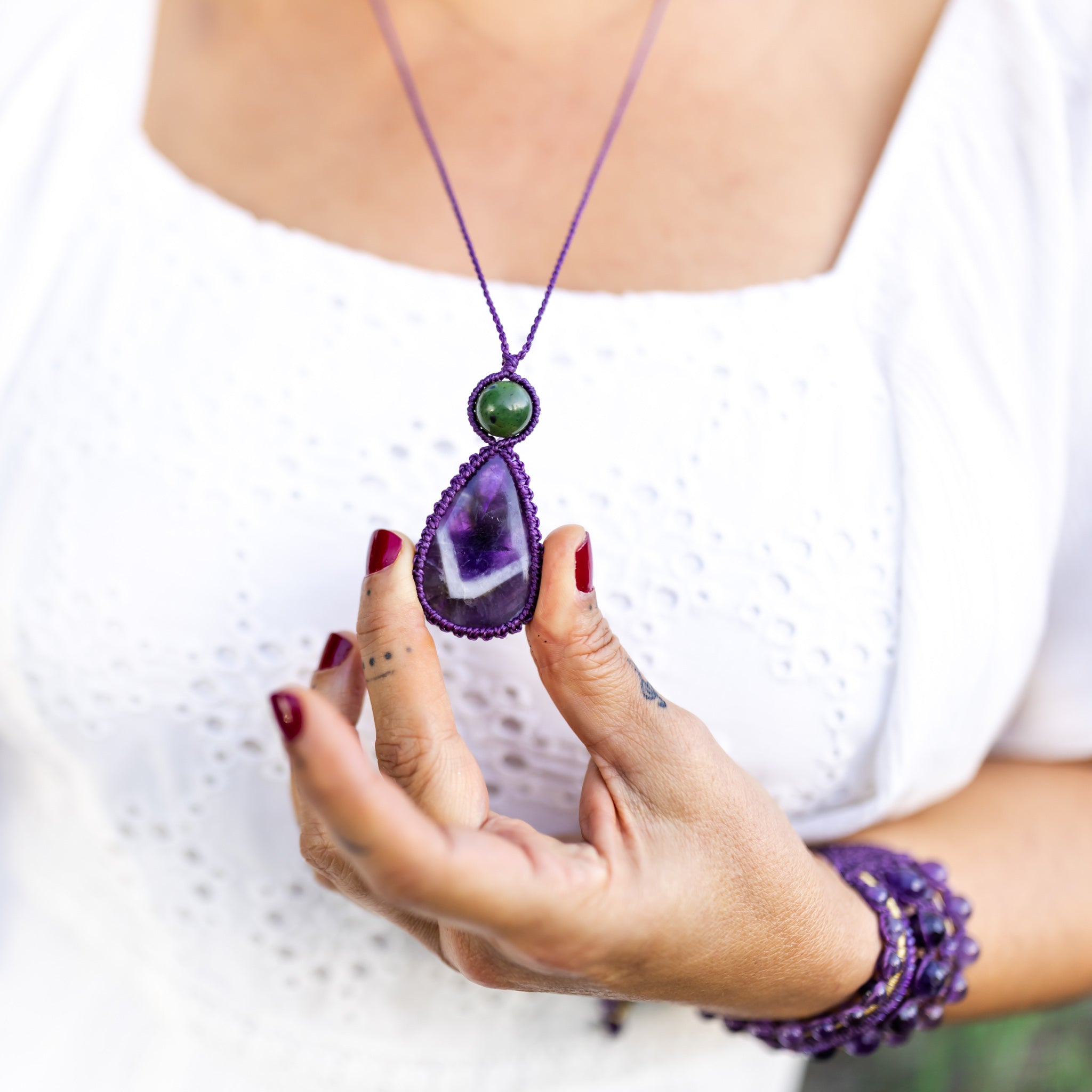 Wearable pieces of art.
Created with the finest gemstones and Settanyl Waxed threads. Handmade with love in Salmon Arm, BC, Canada. Every piece is individually designed, and each is unique in their own right.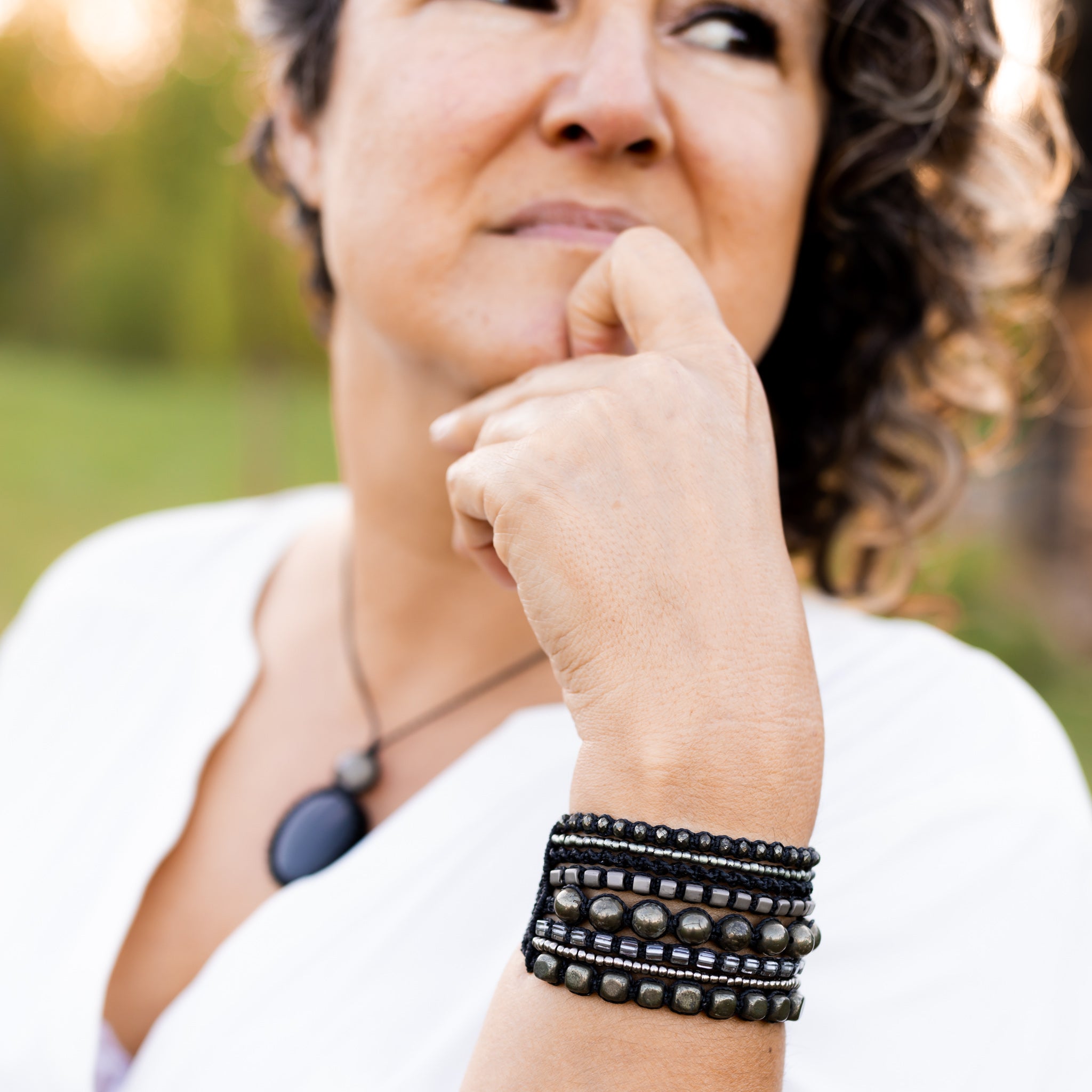 Responsibly sourced materials.
We worked with three lapidary families: one from India, one in Brazil and another from Mexico. These people share the same value as us: to appreciate nature, respect it and bring its beauty to the world.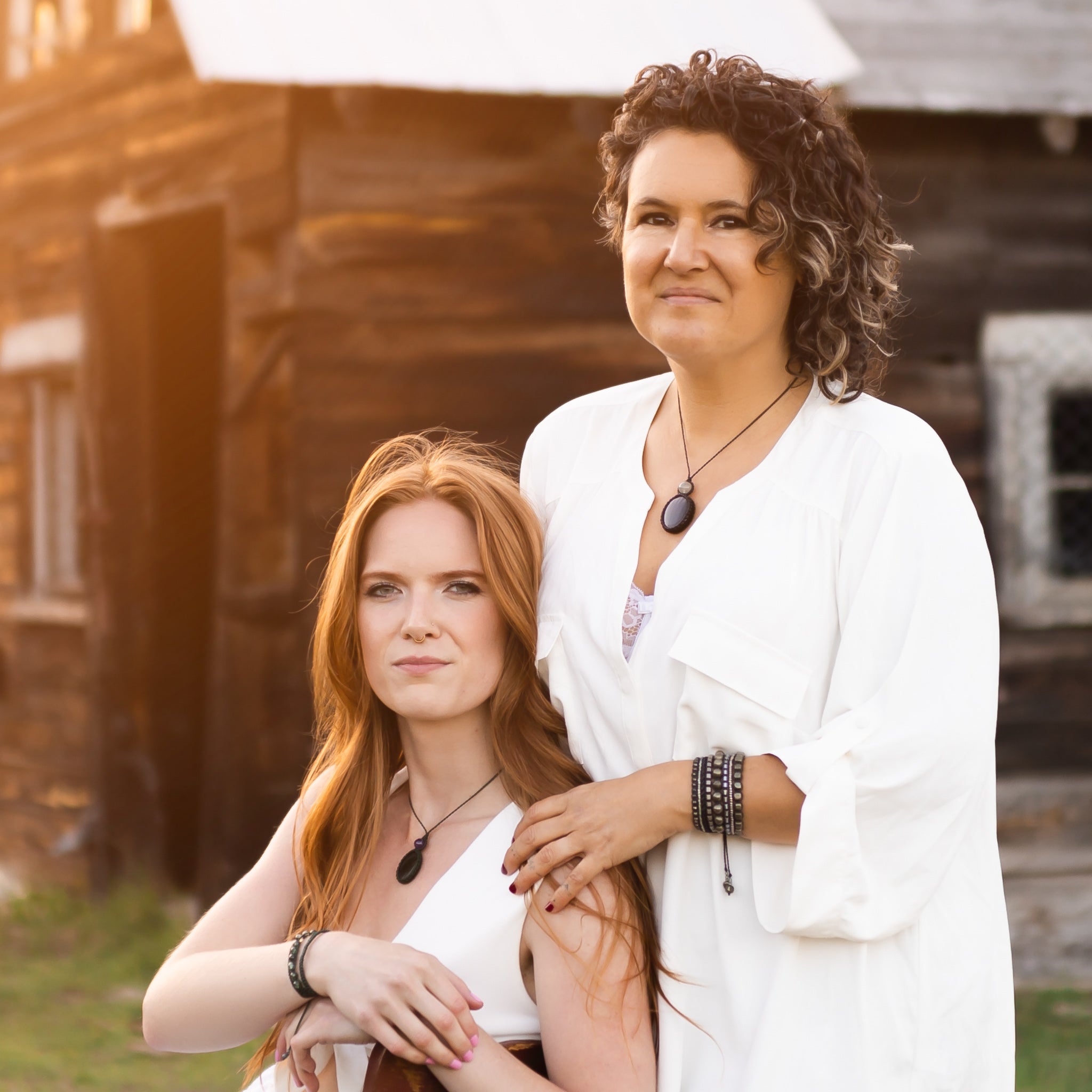 Made with love and time
...and the finest gemstones we could fine. Susana Vijaya Co believes in the power of nature's beauty and how such allure can bring healing, peace and balance into our lives.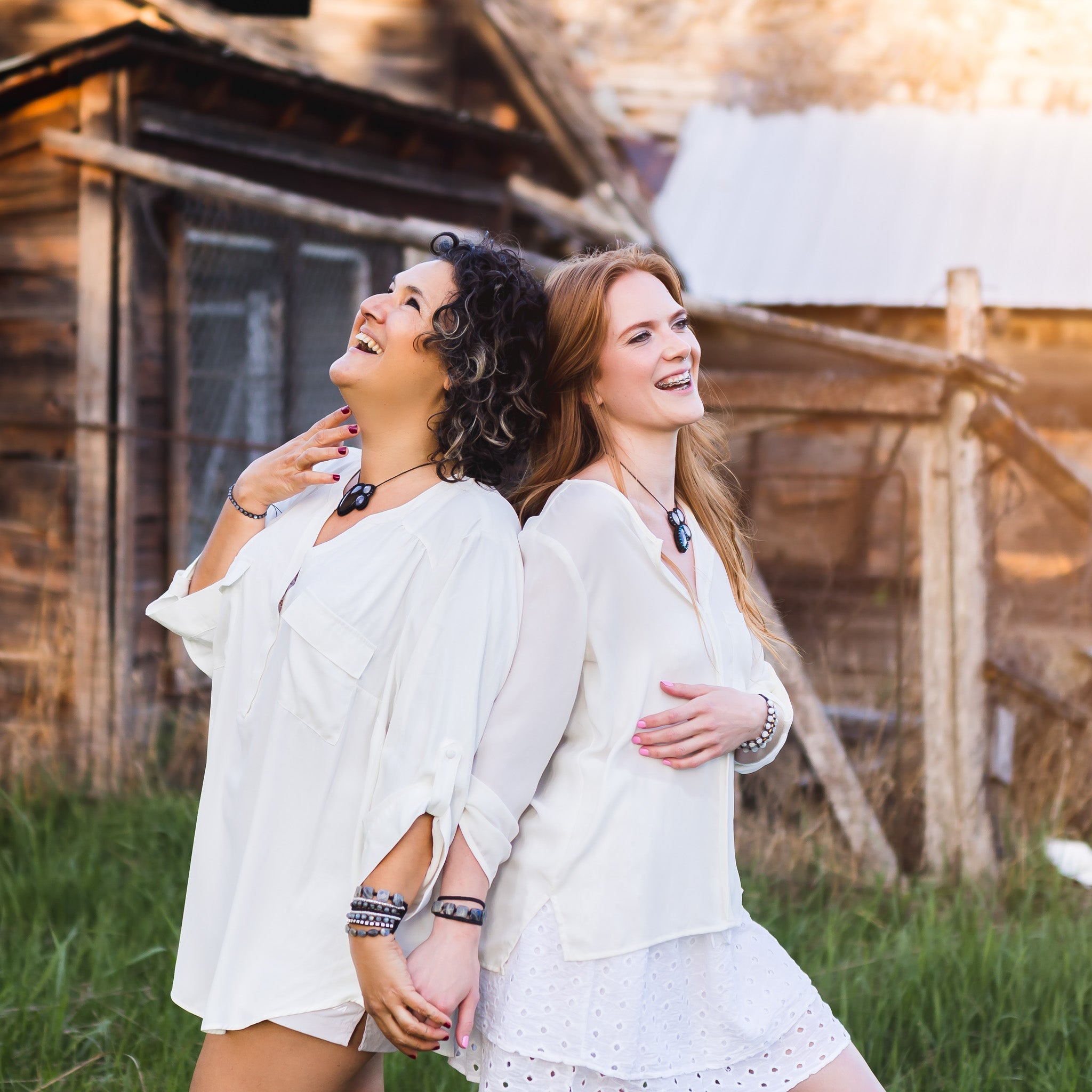 Susana Vijaya Designs
Authentically handmade with love in Salmon Arm, BC, Canada
We are a humble team of five ladies who love what we are creating and it brings us happiness to transform nature's materials into pieces of art.
Wearable Pieces of Art
Design to Impress. Created for the world to appreciate.
Our jewelries are made with responsibly sourced gemstones from India, Brazil and Mexico. Every piece is intertwined with Brazilian Settanyl waxed cord, a material highly appreciated in the art world for its durability, excellent colorfastness and versatility.